In the 12th century, Pomerol became a stage on the road to Compostela. The Order of Hospitallers marks with its Maltese Cross the prestigious destiny of the terroir of Clos Bel Air
In the 12th century, Pomerol became a stage on the road to Compostela. The Order of Hospitallers marks with its Maltese Cross the prestigious destiny of the terroir of Clos Bel Air
Clos Bel Air and its 2.35 hectares of vines composed of 96% Merlot, 2% Cabernet Sauvignon and 2% Cabernet Franc has got an exceptional terroir. Its location to the west of the famous Pomerol plateau allows the château to cultivate rich and precious land for the cultivation of vines.
The south / south-east vineyard exposure represents a unique and exceptional geological composition of beautiful gravel, clay and sand which shapes Merlot and Cabernets in an elegant, gourmet, fresh and racy way.
The subsoils, made up of a blue clay soil are rich in iron, which have the particularity of retaining the water and returning it to the plant during dry periods. This natural regulation system allows the grape varieties to express density, velvety texture and great delicacy. A unique soil characteristic in Pomerol and very rare elsewhere in the Bordeaux vineyard.
To this ideal soil and subsoil is added a temperate oceanic micro-climate which contributes to the excellence of the wines.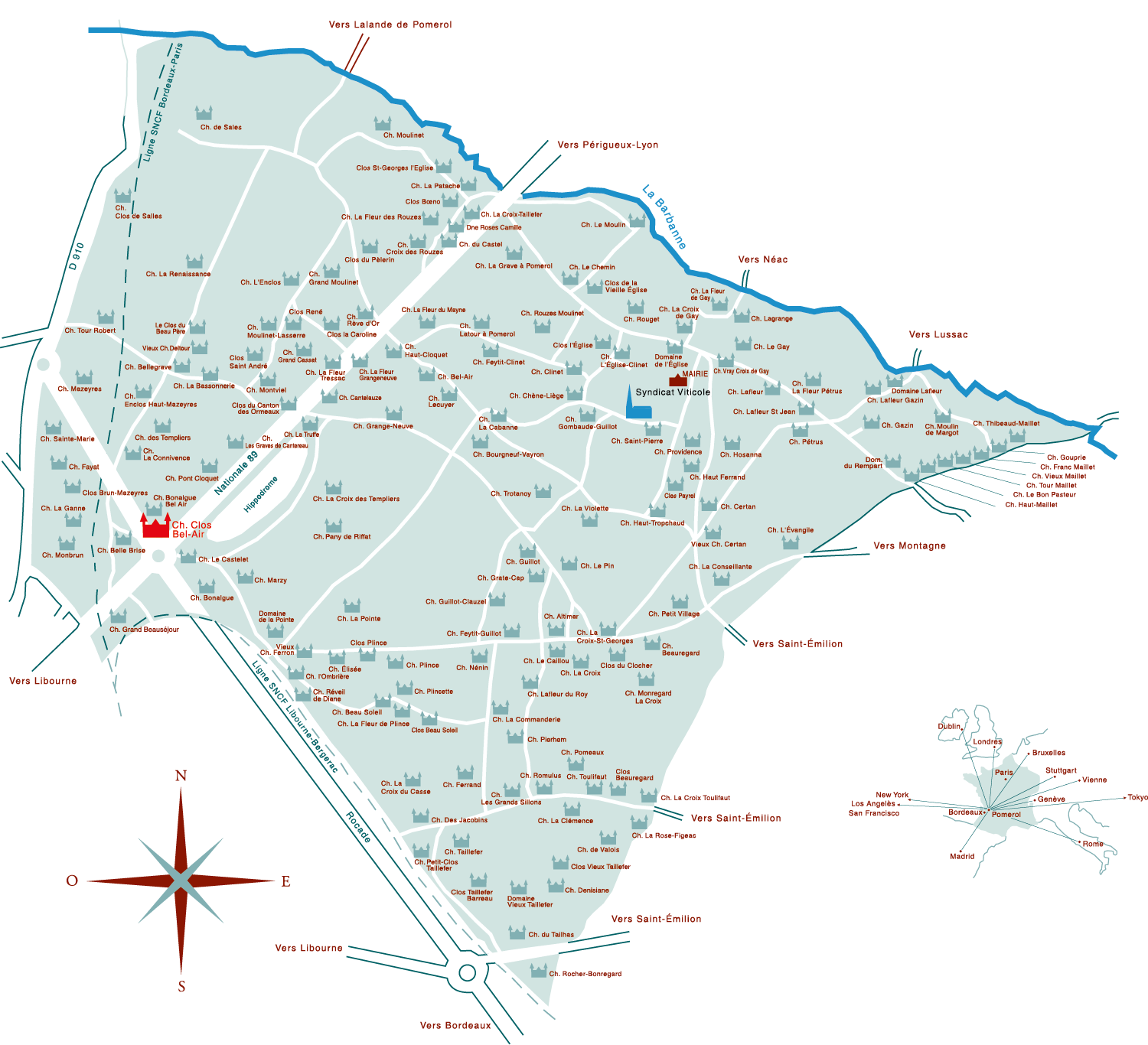 Pomerol is located on the right bank of the Bordeaux river, it borders Saint-Emilion to the east, and Libourne to the south and west. The appellation covers some 800 hectares, planted on the plateau descending in successive terraces towards the Isle valley, at the confluence of the Dordogne. It is one of the smallest production areas in Bordeaux, occupying less than 1% of the vineyard, but also one of the most renowned.
The plateau is composed on the surface of more or less compact gravel, whether clayey or sandy. The subsoil is richly endowed with iron oxides called "crasse de fer", which give Pomerol its unique character.